Ucluelet Brewery – Coming December 2019!
The Ucluelet Brewery will be located in the iconic St. Aidan's on the Hill Church at the corner of Peninsula Road and Main Street. Ucluelet Brewing Co. will bookend any "pint to pint" (to pint) travels between Tofino Brewing, Twin City Brewery in Port Alberni, and Ucluelet.
This community focused business has been a long time coming and should end with a satisfying "Oh that's delicious!"  in late 2019!
Follow them on social media to be the first in line for a craft brewed pint!
The Ucluelet Brewery is located within biking distance from Habitat Ucluelet – unique accommodation near Ucluelet.
---
Ucluelet Brewing Co. – A brand blueprint
As luck would have it Habitat owner Trevor Jurgens worked with the Ucluelet Brewing Company to create the wordmark and logo through his company COFFEE Business Stimulus. Have a sneak peek and understand all the elements that informed the brand assets.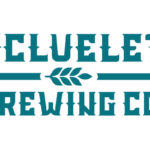 A lot of thought went into ensuring the logo maintained the same level of craftsmanship as Ucluelet Brewing Co's beers. At the foundation is the large anchor reflecting the brewery's rock-steady place as a community meeting place. When you visit the brewery look for the large iron anchor on-site which inspired the design.
The anchor's stock, shank and eye resemble a friend waiting for your with outstretched arms to greet you with a warm embrace perhaps after a rough day on the water… or in the office. Taken as a whole the symbolism embodies Ucluelet's balance between adventure on the open ocean and the safe habour of home.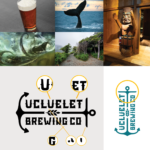 A wild and welcoming story well told
Considerable effort and strategy went into subtly customizing a maritime inspired typeface to improve scale-ability/legibility while creating subtle references to waves/wind-whipped trees, whale/mermaid tails, kraken tentacles/barley sheaths and the overall magic of brewing/maritime lore. Curvatures in the letter forms mirror those in the anchor shape and other elements.
Purpose built for signage and merchandising
Meant to be displayed vertically as well as horizontally – the wordmark was tailored to work on the brewery's distinct trapezoid windows and ideally the prominent church steeple.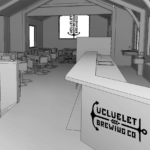 What's in a U? A lot when "ur" Ucluelet Brewing Co.!
Can you spot the hidden pint glass in the negative space of the iconic "U"? The solitary "U" logo treatment distills everything mentioned above into one icon – stability and security, maritime lore and a well-crafted pint to welcome you join friends on the wild West Coast. What would a brewery logo be without the beer right?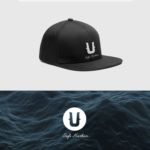 ---
Habitat – Unique Accommodation Close By
With all those great beer available to go in growlers you are going to want a sunny deck, hot tub and fire pit to accompany them. Habitat Vacation Rental and Retreat will be halfway between Florencia Bay and the new brewery. We'd love to host you (and share a glass). Imbibe, revive and hit the beach after a night in the peaceful Millstream community. Book some quality time in your coastal home away from home.
Ucluelet Brewing Co. – Tofino Brewing – Bikes and Pints
In an exciting development for thirsty cyclists Parks Canada is 60% complete a continuous bike path that conveniently connects the Ucluelet Brewing Co and Tofino Brewing (not to mention the two lovely towns and world famous beaches).