Ha'barn'tat Cabin
Experience Ha'Barn'Tat – an Air BnB Ucluelet Mini Home Experience.
Everything you need to thrive and nothing you don't. You've seen them on TV, you've dreamed about having your own, maybe your coolest friends even have one but… have you experienced what it is like to spend a few days in a mini home / tiny home away from the bustle of the city? What would it feel like to wake up in your own private space that was designed to pack a ton of good things into a small package? Find out with a unique experience in our Ucluelet Air BnB Mini Home.
We  sell out! Book now on Air BnB Ucluelet!
Benefits and Amenities: Ha'barn'tat the Air BnB Ucluelet Mini Home
Less clutter, cleaning and wasted space means more time and opportunities to connect with your goals, your loved one or your passion. If you are looking for cabins or yurts near Ucluelet / Tofino why not try our mini home? Get the benefit of a sunny yard compete with hammock and enjoy the up-cycled materials including locally salvaged steel showers and ceiling.
Ha'barn'tat provides some of the most unique Air BnB accommodations near Tofino / Ucluelet.
Stainless steel shower and loft ceiling
King bed with cozy linens and personal reading lights
Apartment sized fridge with freezer
Large TV and Wifi for checking the surf reports and bingeing on your faves
Super fast induction element and foodie friendly kitchen tools
Large glass patio doors make the space open and bright
Sturdy barn doors make the space cozy and secure
Access to communal hot tub
Access to communal wetsuit rinsing and drying room
Private outdoor fire pit and complementary fire wood
Off street parking
Summer 2019 is booking fast.
Book on AirBNB? 
Try out a Air BnB Mini Home
Have you ever considering packing it in on the city and moving to be closer to nature and the things and people you love? Thought about reducing your footprint and walking your own path? City life is expensive. Ha'barn'tat offers discounts for monthly rates.
During the low season (aka high personal productivity season 🙂 you can have the entire Ha'barn'tat for $2,200 a month. Rent your apartment in Vancouver, Victoria or Seattle for instance and break-even or come out ahead while surfing every day and sleeping better than you have in years. Make money while living the dream? Habitat is located in a quiet nook on the Barclay Sound – 5 minutes from Ucluelet, BC and 30 minutes from Tofino, BC.
Air BnB Ucluelet Mini Home Rates – Double Occupancy
Low Season (January 5 to Feb 28th) – $120 nightly plus $100 cleaning fee*
Shoulder Season (March 1 to April 31, and October 1 to December 20) – $140 nightly plus $100 cleaning fee*
High Season and Holidays (May 1 to September 31) $180 nightly plus $100 cleaning fee*
*All applicable taxes and Air BnB fees additional. $50 per night per additional person to a maximum of 3. Discounts for stays over 14 days.
Surfrider Discount: Are you a Surfrider member? If so, keep up the good work! Habitat is happy to offer you a 10% discount on your booking. See you in the water!
Rich Wiens – Marketing Director
Ha'barn'tat at Habitat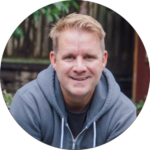 I am a huge fan of Ha'barn'tat. Super comfy bed and bedding and really quiet and peaceful surroundings. Unique décor and everything you need. Kitchen was well stocked. Actually bigger than some apartments I have lived in. The location is perfect to get a head start on the beaches or the Wild Pacific Trail but still easy to pop into town. Was there in February and it was great, would be amazing from spring to fall with the flowers out etc.
Air BnB Ucluelet Mini Home Location
Ha'Barn'Tat is located in the quaint coastal community of Millstream, 5 kilometers north of Ucluelet, BC. Walking distance to the safe harbor that gave Ucluelet its name, Millstream is the perfect place to stretch your legs with a morning stroll down to the waters edge. Habitat is home to resident humming birds and Skylar Jays that you can watch while you drink your morning cuppa. Connect with other adventurous souls in Habitats common areas or stick to the privacy of your mini home complete with mini garden and mini patio!
The Habitat lot is surrounded by wild blackberries, lush Rhododendrons and is close and convenient for the Wild Pacific Trail, Florencia Bay, Highway 4, Wickaninnish Beach and the Kwistish Visitor and Cultural Centre.
Approximately a 3 hours drive from the Duke Point Ferry terminal in Nanaimo, BC your scenic cruise from door to door includes water falls, salmon spawning grounds, delicious fish and chips, craft breweries and lake views.
We are pet friendly! See some of our friends!
Ucluelet Mini Home Things to Do
Ucluelet is know for it's hiking and surfing on the beautiful west coast. Offering easy access to the Pacific Rim National Park reserve the wilds are at your doorstep for world class whale watching, salmon and halibut fishing, stand up paddle boarding, photography, hiking, biking, brewery tours and distilleries, fine dining, annual festivals, and cultural events. Come visit the best kept secret on the west coast of Vancouver Island, Tofino's more authentic and quaint little brother. With a mini home as your home base you will not run out of things to do as you explore the rugged and beautiful coast line which is considered a "must see" when visiting British Columbia.
Looking for a larger space on the coast? Interested in renting a work remote suite?
Check out the main Habitat vacation rental property in Ucluelet – Habitat House